Limelight
DYNAMIC VOCAL XLR MICROPHONE
Designed for Podcasting, Broadcasting, and Streaming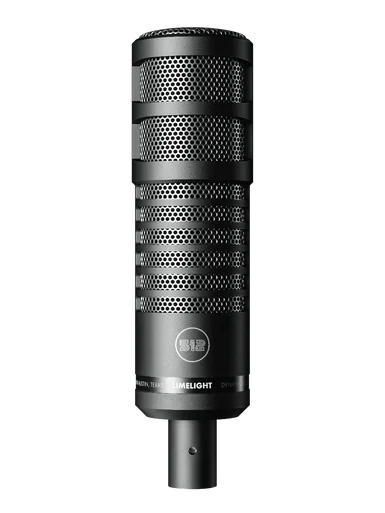 With a modern design inside and out, Limelight delivers exceptional clarity for podcasts, broadcasts and livestreams. Limelight is a dynamic studio microphone custom-tuned for voice and speech. Featuring a hyper-focused pickup pattern, built-in pop shield, and low frequency filter, Limelight captures the nuance in your voice and cuts out unwanted noise. Bring the clear, natural audio of the broadcast studio to your home setup.
YOUR VOICE. YOUR WORDS. CREATE A CLEARER CONNECTION.

Limelight is precision-tuned to focus on the frequencies that capture the richness of voice and speech so your audience can enjoy your talk-focused content with the clarity you'd expect from a world-class broadcast facility.

Step up to Limelight and you'll immediately hear the difference — and your audience will too.
HEAR WHAT YOU DON'T SEE.

Designed by an expert team of engineers, Limelight combines a modern circuit with a professional dynamic capsule to produce smooth, clear broadcast audio.

Limelight features a tailor-made frequency response of 50Hz - 20kHz, sculpted for close-range vocal frequencies and designed to reduce the noise.
Built on legacy: Built on the vintage-inspired professional audio legacy of Warm Audio, Limelight was engineered with modern circuitry and mic design to meet the needs of today's broadcasters and podcasters.
STEP UP TO THE MIC.
PODCASTING
BROADCASTING
STREAMING
MORE VOICE. LESS NOISE.
More voice. less noise. With a hyper-focused pickup pattern that's nearly 20% narrower than a standard cardioid microphone, Limelight captures your voice while rejecting unwanted room noise around you.
MAKE THE MOST OF YOUR VOICE
No pops. Built-in pop shield blocks intrusive plosives, like ppp's, bbb's, and fff's, for an uncompromised sound and less audio cleanup in post.

No low-end rumble. User-switchable low-frequency filter prevents unwanted noise and low-end rumble, for more control over your sound.

360° swivel mount. Achieve perfect placement on a mic stand or boom arm.