512-BBA
ADJUSTABLE MICROPHONE BOOM ARM
For Podcasting, Broadcasting, Streaming, and Recording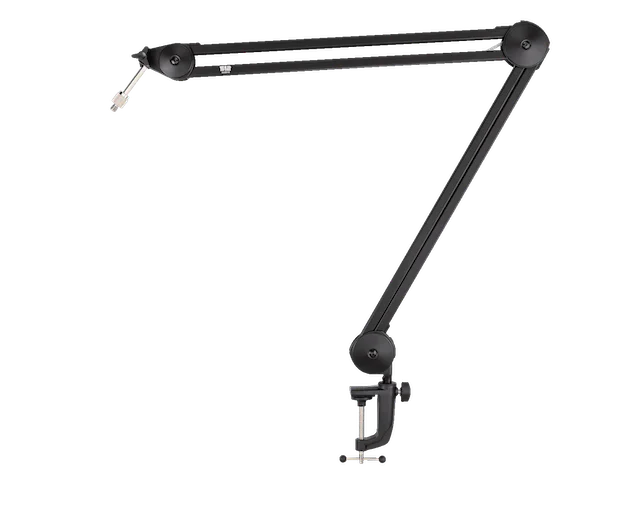 The 512-BBA is an adjustable microphone boom arm featuring a silent, internal, high-tension spring design, extra-wide mounting clamp, and articulating integrated swivel. With 360 degrees of rotation and simple two-axis adjustment, you'll easily find and maintain the perfect mic position every time without making a sound.
BRING YOUR SOUND CLOSER.

Bring your mic closer to your voice and away from distracting vibrations caused by typing, desk movement, and noisy fans. With professional looks and a reliable, high-tension spring hinge, 512-BBA easily stays in place without any additional tightening or adjustments.

Don't let anything come between you and clean, clear audio.
PERFECT MIC PLACEMENT. EVERY TIME.

The 512-BBA features a durable yet lightweight steel construction that easily holds most professional recording and broadcast microphones, up to 3 lbs. Whether your perfect placement is over your monitor or stretched across the table, 512-BBA's 360 degrees of arm rotation and smooth, dual-axis swivel lets you enjoy a full range of motion to effortlessly find the optimal mic placement.

512-BBA is outfitted with a silent-spring design so you can make all the adjustments you want without making a sound.
ADDITIONAL FEATURES
Extra-wide mount. Featuring a sturdy metal C-clamp that attaches to any surface up to 2 inches thick and includes an anti-scratch pad to protect your desk

Simple cable management. Keep your setup clean and clutter-free with the included velcro wraps for quick and simple cable management.

Universal compatibility. Compatible with virtually any microphone, 512-BBA comes with both ⅜ and ⅝ thread adapters to make mounting a snap.

Fully collapsible. Tucks away in an instant for compact and easy storage whenever you're off the air.