Elite Audio Conversion and Four Unison Preamps, All on your Desktop.
Apollo x4 allows musicians and producers to easily track, overdub, and mix larger projects with elite-class A/D and D/A conversion, four Unison-enabled preamps, and QUAD Core realtime UAD plug-in processing — all in a desktop Thunderbolt 3 audio interface for Mac and Windows.
Built upon UA's 60-year heritage of audio craftsmanship, Apollo x4 confidently outperforms everything in its class with 127 dB D/A dynamic range, along with an included bundle of UAD analog emulation plug-ins and LUNA Recording System, giving you a fully-stocked analog studio, right on your desktop.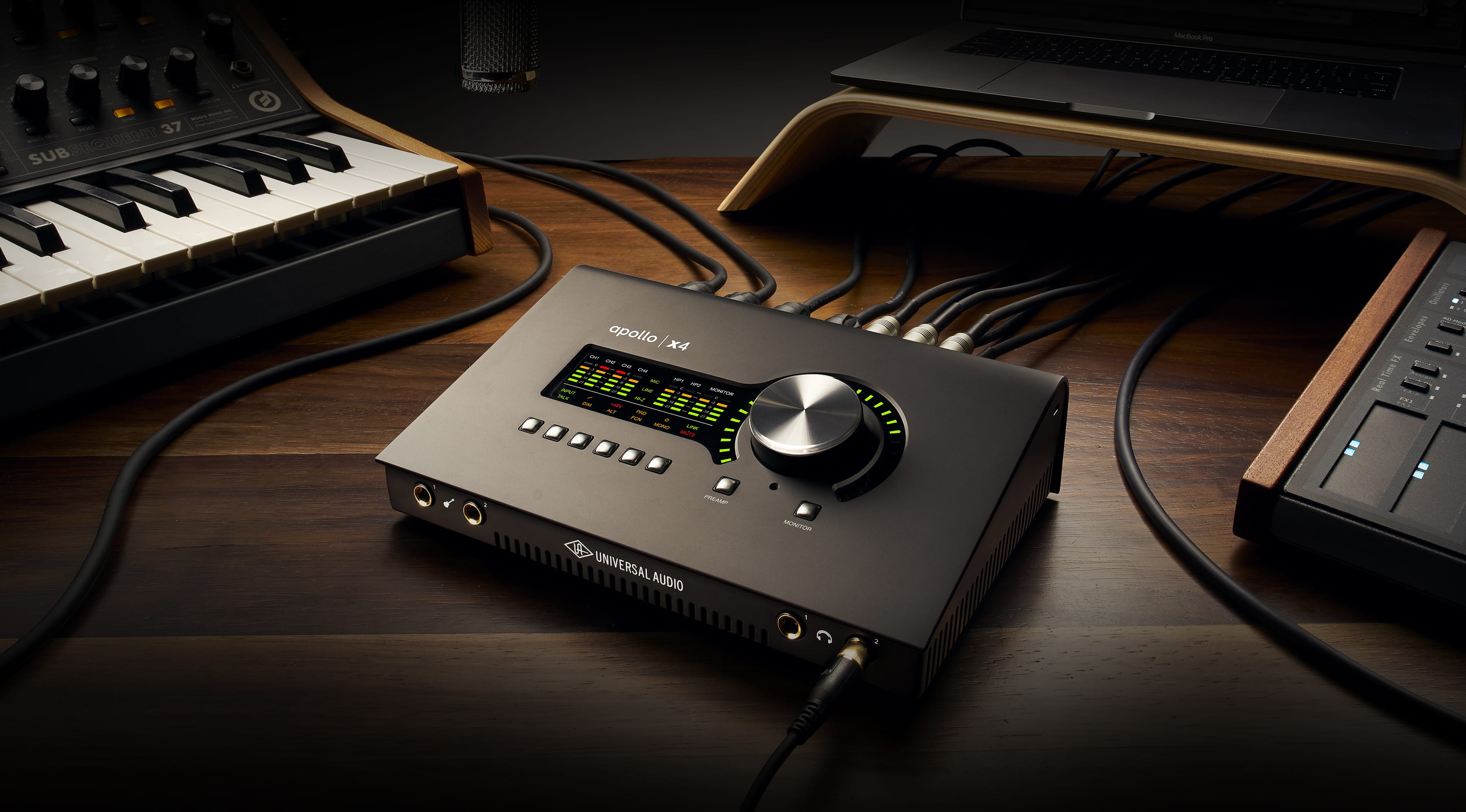 Record and mix with elite-class A/D and D/A conversion — with the widest dynamic range and lowest noise of any desktop interface

Onboard UAD QUAD Core processing lets you track and mix with the included Teletronix LA‑2A and 1176 compressors, Pultec EQs, and 610‑B Tube Preamp & EQ plug-ins

Four Unison-enabled preamps — track larger projects with near-zero latency through preamp emulations from Helios,® Neve,® API,® Manley,® and more*

Includes LUNA Recording System — a fully-integrated and inspiring music production application

Four Unison Preamps: Get the Genuine Sound of
Neve, Helios, API & More
Apollo x4 features four Unison-enabled mic preamps, letting you track through exacting mic preamp emulations from Neve, Helios, API, Manley, Avalon, Universal Audio and many more. Exclusive to UA Audio Interfaces, Unison technology nails the tone of these sought-after tube and solid state mic pres — including their input impedance, gain stage "sweet spots," and the component-level circuit behaviors of the original hardware.
The secret to Unison is its hardware-software integration between Apollo's mic preamps and its onboard UAD QUAD Core DSP Acceleration. Simply place a Unison preamp plug-in on your mic input in Apollo Console software, and it physically reconfigures the Apollo interface's impedance — so you can tap into the classic sounds of the world's most recorded mic preamps.
Access the World of UAD Powered Plug‑Ins
Beyond the included Realtime Analog Classics Plus plug-ins, Apollo x4 lets you tap into the full library award-winning UAD Powered Plug-Ins — including vintage EQs, Compressors, Reverbs, Tape Machines and more — at near-zero latency, regardless of your audio software's buffer size and without taxing your computer's CPU.
With exclusive emulations from Neve, Lexicon, Capitol Studios, API, Manley, Ampex, Fender, and more,* it's like having an endless analog studio, right on your desktop. And unlike competing interfaces, these DSP-powered plug-ins are also available in your DAW for mixing.
Expanded I/O and Built-in Talkback Mic

In addition to its four onboard Unison-equipped preamps, Apollo x4 offers two headphone outs and two Hi-Z instrument inputs — greatly enhancing your collaborative process. Plus, with a total of four line outs, optical ADAT/SPDIF input and output, plus dedicated monitor remote controls and a built-in Talkback mic, the 12 x 18 Apollo x4 can serve as the powerful centerpiece of your professional desktop studio.
Available as Apollo Heritage Edition

Featuring 10 premium UAD titles — including complete plug‑in Collections of our award-winning Teletronix,® UA 1176, and Fairchild® compressors, Helios® Type 69 and UA 610 mic preamps, Pultec® EQs, and more.
Build a Networked Studio

Users of any Thunderbolt-equipped Apollo interface can combine up to four Apollos and six total UAD-2 devices — adding I/O and DSP as your studio grows. Once you expand your studio with an Apollo x6, x8, x8p, or x16 rackmount unit, you can use Apollo x4 as a desktop monitor control while still tapping its additional I/O and DSP power.
---
Realtime Analog Classics Bundle
With the Realtime Analog Classics plug-in bundle, you get legendary compressors like the Teletronix® LA-2A and EQs like the Pultec® EQP-1A, stunning guitar and bass amp emulations from Softube, as well as UA's landmark 610-B Tube Preamp and EQ plug-in.
UA 610‐B Marshall Plexi Classic Amplifier Teletronix LA‐2A Legacy UA 1176LN Legacy UA 1176SE Legacy Pultec EQP‐1A Legacy Pultec Pro Legacy Ampeg® SVT-VR Classic Bass Amp Precision Channel Strip Precision Reflection Engine Precision Delay Modulation Precision Delay Modulation L Raw Distortion RealVerb‐Pro
---
UA 610-B Tube Preamp and EQ

Impart your tracks with the iconic warmth and character of the classic hardware used to track everyone from Duke Ellington to Coldplay. By emulating the entire signal path, including tube amplifiers, transformers, and circuit nonlinearities, the 610-B Tube Preamp and EQ plug-in injects organic detail and saturation to any signal — whether you're re-amping or tracking through the 610-B via Universal Audio's Unison™ technology.
Marshall® Plexi Classic Amplifier

The undisputed alpha dog of rock and roll guitar amps, the Marshall "plexi" amplifier is as legendary as the music it helped create. From Jimi Hendrix to Jimmy Page, Duane Allman to Eric Clapton, the Plexi's punishing melange of snarl, sustain, smoothness, and raunch defined the sound of rock. Developed by Softube, the Marshall Plexi Classic Amp plug-in gives you the sound of this iconic amp with a perfectly placed microphone from engineer Tony Platt who recorded AC/DC's Back in Black and Highway to Hell.
---
Desktop 2x4 USB audio interface for Windows 10 with class-leading 24-bit/192 kHz audio conversion
Unison mic preamp and guitar amp emulations from Neve,® API,® Manley,® Marshall,® Fender,® and more*
Realtime UAD Processing allows near-zero latency tracking with classic UAD plug-in effects, regardless of software buffer setting
Includes studio compressors, EQs, reverbs, and guitar amp emulations, and more as part of "Realtime Analog Classics" bundle
Best-in-class headphone amplifier for loud, detailed, low-noise monitoring
USB 3 (Type-C) cable sold separately